10 Best Careers For Working Moms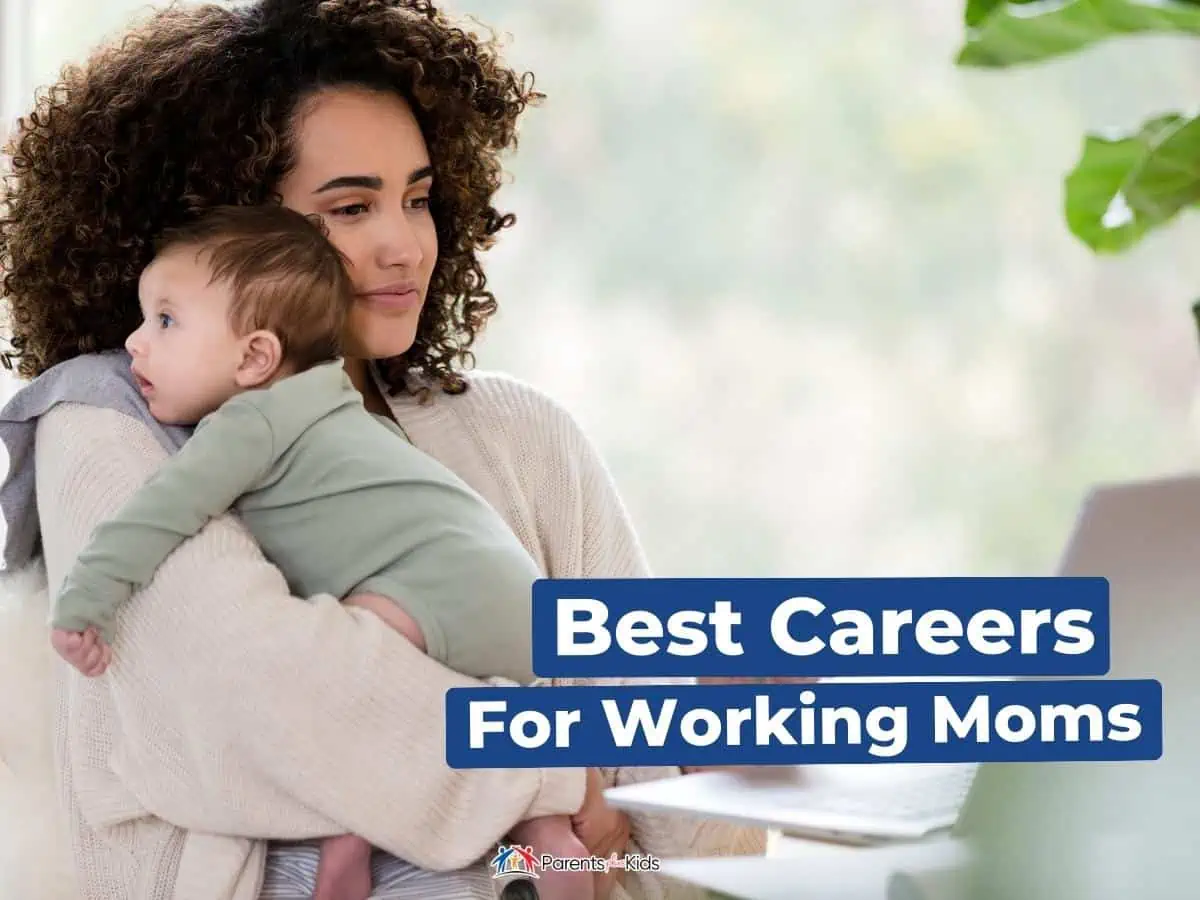 This post may contain affiliate links. If you buy through the link, I may earn a commission. Learn More.
I am a working mom.
All of my mom-friends are working moms as well.
Each of us has our own different ways of balancing work and home.
Largely, this is done by choosing a job that allow for flexibility while also earning a stable income.
10 Best Careers for Working Moms
When striving for a balance between work and home, you should seek a job that allows you some flexibility and as little stress as possible.
However, the right career move depends entirely on what you most desire.
Your best position might be as a pilot, a seamstress, a neurosurgeon or a carpenter.
1. Freelance Writer
I chose this job for my top spot because this is the job I have had for 17 years.
I have had great success as a freelance writer while also being able to have the flexibility I need to take care of my children and my household.
If you like to write and you have a strong command for the English language (or other languages, if that's your choice), then you might be able to make a career out of freelancing.
However, there are downsides to freelance writing. The biggest that is affecting all freelance writers is artificial intelligence.
Many would-be clients are turning to AI to do copywriting for them for free. The copy is not well written and is often not factual, but it is free.
I lost about half of my clients in the space of a few weeks when Chat GPT burst onto the scene.
That said, if you can find a good client who appreciates well written copy, freelance writing may grow to be something you love.
2. Photographer
Do you have an eye for art? I don't. Otherwise, I would consider starting a photography business.
This is a position that is fun, lucrative and in high demand.
You don't even have to have your own studio as most photographers now choose natural settings for photo shoots.
While you do need a high-end camera, you will make back your investment within your first two or three clients.
For example, my I just booked a photographer for my son's senior photos. The cost of the shoot alone was nearly $1,000.
This is nothing compared to what you can charge for engagement and wedding photos.
Other occasions that are regularly photographed include maternity, newborn, graduation and athletic photos.
You can specialize in boudoir photos or headshots. Basically, if it can be photographed, you can turn it into a business.
3. General Office Worker
As I mentioned earlier, I have lost many of my freelance clients.
In order to continue having a reliable income, I have taken a job working as an office clerk.
I wanted a job that would somewhat mundane so I could continue writing part-time.
I was lucky enough to find an office that allows me to work only four days per week while my kids are in school.
It's not hard, it gets me out of the house and the income is not bad.
4. Dental Hygienist
If you have time and money to earn a certification, being a dental hygienist may be the right career choice for you.
Full-time students can complete their certification in only two years. Part-time students can have their certification in three.
Most dentist offices are flexible enough to allow you to work part-time if you wish.
This is one of the nation's fastest-growing jobs and, depending on your location, you can make over $100,000 per year.
5. Teacher
There is a teacher shortage in the United States. This means you should be able to find a teaching job anywhere you live.
If you already have a bachelor's degree, you can earn a teaching certificate in about two years.
If you want to start working immediately, you can start substituting as long as you pass a background check.
Many states require their substitutes to earn certification, which usually only takes about 20 hours online. Other states have no requirements whatsoever.
Another good option is teaching at a preschool or nursery school. The qualifications required for this role vary from state to state.
Finally, if you love teaching but don't have time for certification, you can begin private lessons or tutoring.
This self-employment route allows you to take advantage of your own special skills.
Teach piano, tutor in math, help with college entrance exam prep or provide general tutoring services.
The options are virtually unlimited.
Related: Is Teaching a Good Career For Moms?
6. Childcare Provider
Many moms decide to add more children to their daily routine.
Starting an in-home daycare allows you to take care of your own children while providing a much-needed service to others.
You can keep the number of children you watch small, or you can accept up to the maximum allowed by your state.
You will need a childproofed area of your home, a lot of patience and up-to-date insurance.
You may need to be licensed to run an in-home daycare. Laws vary by state.
At minimum, you should be CPR certified and understand basic first aid.
7. Remote Customer Service Agent
Remote jobs are becoming more and more common.
They can be wonderful opportunities for moms who have children who are school-aged as they allow you to work during the day without leaving your home.
Most of these positions involve accepting incoming calls or chatting with customers online.
However, there is a danger with remote positions.
When applying, you may find yourself being scammed by entities that promise to offer remote jobs but require you to pay for expensive training that leads nowhere.
Likewise, many of these positions are advertised as customer service but are actually collections or sales.
Those can be great jobs for people who enjoy them, but many of us prefer to not work on commission or call people in their homes.
8. Real Estate Agent
Most real estate agents are either self-employed or work as part of a cooperative group.
In almost all cases, real estate agents set their own hours.
This flexible position is very good for moms who desire flexibility and are great with sales.
It is not a good option for a mom that needs a dependable income as real estate is a commission-only gig.
That said, gifted real estate agents can easily make six figures every year.
9. Phlebotomist
Do you like sticking people with needles?
A phlebotomist position may be perfect for you! I recently learned that my state doesn't require phlebotomists to have any type of certification.
Likewise, the American Red Cross has a high turnover in this position. They require eight weeks of training, but training is paid.
With a starting salary that is above minimum wage, it can be a rewarding career.
In addition, phlebotomists with experience can get jobs with clinics and hospitals that pay well and have excellent benefits.
This is a great job for a mom because it is not difficult to find phlebotomist positions with flexible hours.
10. Fitness Coach
Healthy moms can help other moms get healthy as well.
You can become a personal trainer, a yoga instructor or a group exercise instructor by completing certification courses and passing a final exam.
You can then seek a position with a gym or build your own business from scratch.
Perhaps the biggest benefit of this position is that you can continue to invest in your health while helping others.
Key Takeaways
These are just a few of the best jobs for moms.
There are plenty of other options out there for a mom who wants to earn money while being able to spend time with her kids.
Are you a mom looking for a job? Check out our job board!
Have You Read These Yet?