10 Must-Haves Before Bringing Your Baby Home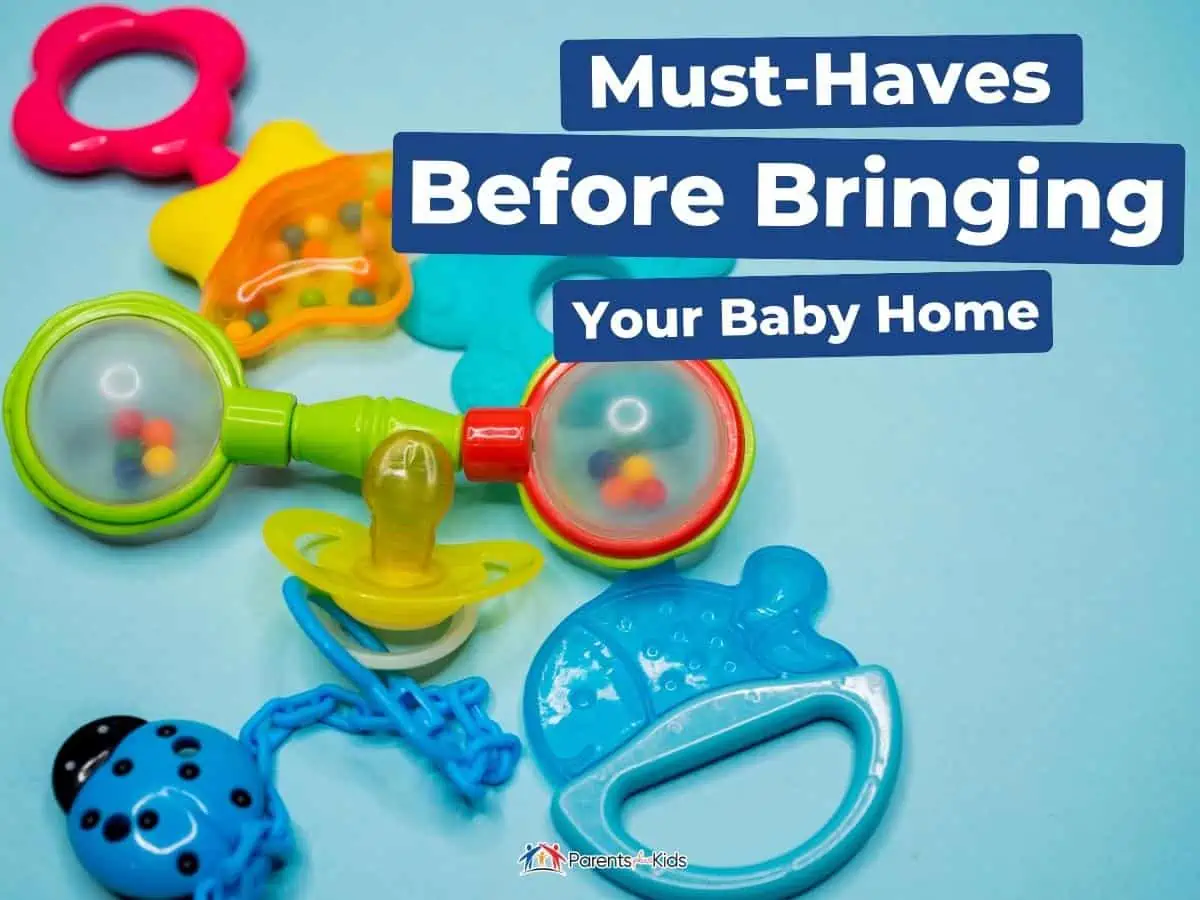 This post may contain affiliate links. If you buy through the link, I may earn a commission. Learn More.
It's a baby! You are excited, which you should be.
You are also worried that you don't have all of the equipment you need. Worry no more!
The following list will help to ensure you have all the tools necessary before you begin your new family.
10 Must-Haves For a New Baby
Social media, influencer moms and mass marketing will tell you that you need no less than 10,147 designer items before you can be a true mom.
This isn't the case at all. There are only 10 must-haves.
1. Sleeping Arrangements
Your baby will need a crib or bassinet before you bring them home. Do not plan on bed sharing.
Co-sleeping is dangerous for the baby as it increases their risk of injury, SIDS and suffocation.
A crib or bassinet should have a well-fitting mattress with fitted sheets that are laundered and unable to come loose.
You should not have anything else in the crib. This includes bumpers, pillows, toys and blankets.
Related: Cradle vs Bassinet: Which is Better?
2. Clothing in Different Sizes
My son was a big baby. He was so big that the newborn clothing we carefully chose for him did not fit. He needed size 0-3 months clothing from day one.
Do not be caught off guard by only having one size of clothes.
Conversely, don't expect a newborn to wear clothing that is too big for them. This is both uncomfortable and unsafe.
3. Car Seat
You are probably tired of hearing about the importance of car seats. The reason it is mentioned so often is because it is that important.
The leading cause of death and injury among children in car accidents is improper or lack of restraint.
And yes, you do still need a car seat if you don't own a car. The car seat will need to be used in cabs, Ubers, rides with friends and public transportation.
4. Diapers and Wipes
I will not get into the politics and ethics behind disposable vs. cloth diapers. I will tell you that no matter which route you choose to go, you need to have a lot of both.
Your newborn is going to go through almost a dozen diapers per day.
You will probably use at least a couple of wipes with each change, but often you will need more. Do the math and make sure you are stocked up.
5. Safety Supplies
You need to safety-proof your home well before you give birth. If you wait, you are apt to forget some important safety procedures or install these things incorrectly.
You need to have outlet covers on every outlet your child might reach. You will need to secure cabinets in bathrooms and kitchens.
You should install door knob covers and put up baby gates around all stairs and entrances to rooms that cannot be safety-proofed.
Related: 15 Items that Need to be Childproofed
6. Feeding Supplies
You might think there is nothing to purchase if you plan on breastfeeding. You would be wrong. Some moms are unable to breastfeed but they don't realize this until after the baby is born.
There will also be times when you are too exhausted to breastfeed and need someone else to use a bottle.
Feeding a child is a great bonding experience, which you should share with the baby's father, grandparents, or godparents.
Have a breast pump and a supply of bottles with newborn nipples ready. You will also need burp cloths and a nursing shield if you choose to use one.
Those parents who opt for formula feeding should have a ready supply of formula while ensuring the expiration date is not looming.
7. Bathing Supplies
While some people advocate for not bathing children, it was proven some time ago that germs are bad.
A baby bathtub makes bathtime easy.
You will also need a bathtub spout cover, a bath thermometer, soft washcloths, and gentle baby soap.
8. Baby Monitor
You cannot be in the same room as your baby at all times.
A baby monitor ensures you still have eyes and ears on your child even when they are napping in the nursery. This is a safety precaution that should not be overlooked.
9. First Aid Kit
A first aid kit for a baby will have supplies that you don't necessarily have in the standard kit for your home.
Look for a first aid kit with a nasal aspirator, nail trimmers and an age-appropriate thermometer, at minimum.
10. Mittens
This is the one thing that caught me by surprise. Babies have sharp nails and a lack of basic motor control.
They need mittens on their hands to prevent them from scratching themselves. These mittens are very easily lost, so you should buy more than you think you need.
It is also a good idea to purchase long-sleeve onesies and sleepers with built-in mittens. Your baby's sensitive skin will thank you.
Final Thoughts
You have a lot of items to acquire before your baby is born. Make sure you have these supplies, and you will be ready to welcome your baby home.
Did I leave any important items off of this list? Tell me in the comments!
Have You Read These Yet?