10 Fun 5-Year-Old Birthday Party Activities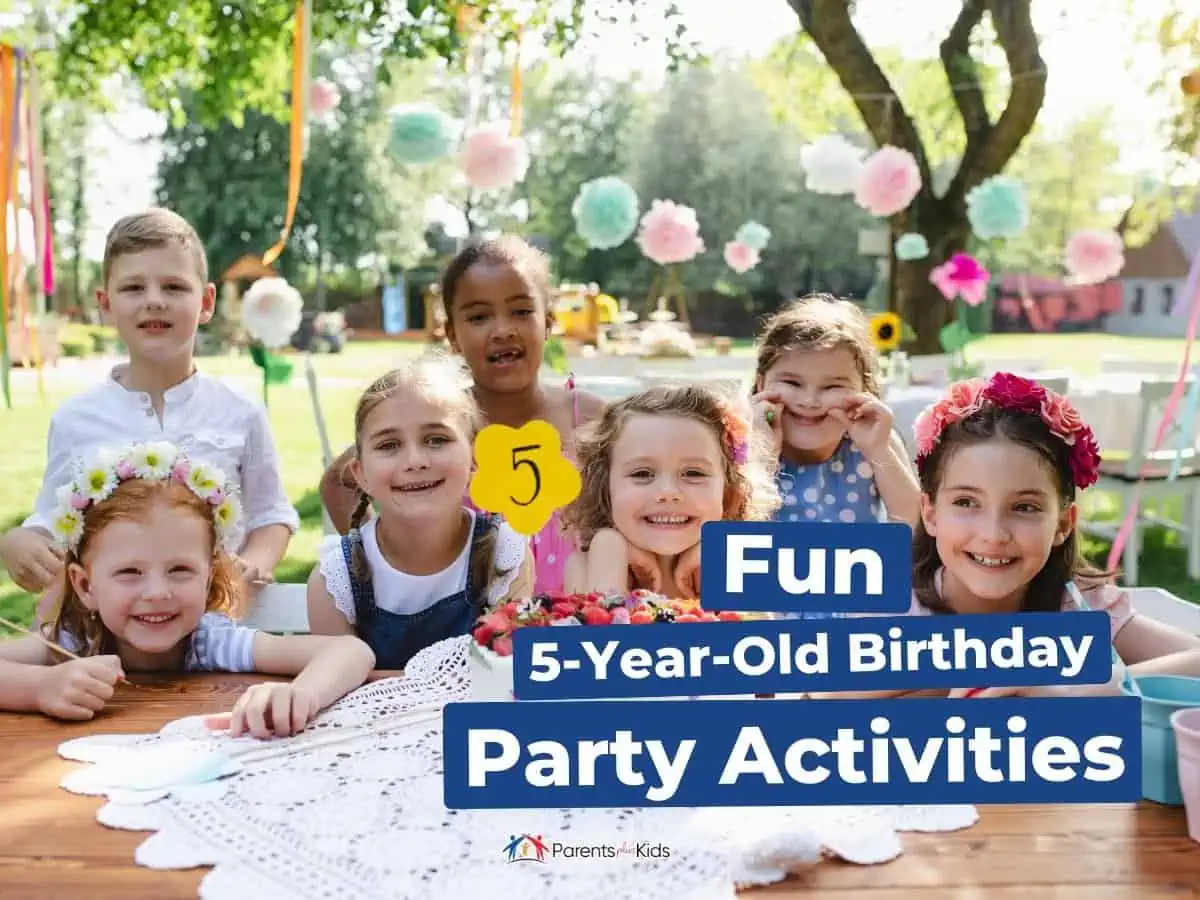 This post may contain affiliate links. If you buy through the link, I may earn a commission. Learn More.
The party for a five-year old needs a variety of activities to keep all of the children happily engaged.
Regardless of your theme, you need a mixture of activities that will entertain the busy young party-goers.
Choose three to five items from the following list for the best party.
Fun 5-Year-Old Birthday Party Activities
I have a general outline for all of the birthday parties I plan. I start with a quiet activity that guests can engage in while others arrive.
Next, we have two or three guided games, food, a craft and an activity that children can do until it is time to leave.
This general outline works well for all ages. It is the activities themselves that need to be altered depending on the age and size of party guests.
1. Sand Art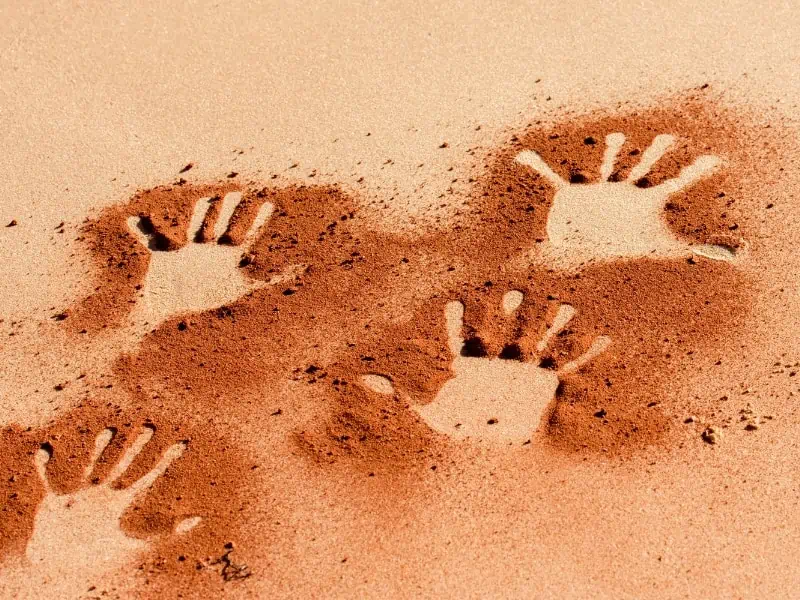 What is It? Sand art doesn't take a lot of guidance for children who are five and older.
If the sand art is done inside, put down a plastic drop cloth that will catch all of the fallen sand.
Provide multiple colors of sand, some funnels and containers. I like to make some in advance so children can get some ideas while they are making their craft.
This is a good activity for children to do while waiting for others to arrive to the party but it is also a fun craft to do as a group.
Is it for Indoors or Outdoors? Both!
Items Needed
Cost: About $20
2. DIY Party Hats
What is It? Children love wearing party hats at birthday parties. This fun craft activity lets five-year-olds make their own!
Give them the supplies, show them an example and let them make party hats as they are waiting for other guests to arrive.
Once everyone is present, have the guests wear their creations as they continue to play.
Is it for Indoors or Outdoors? Indoors
Items Needed
Cost: $15
3. Bounce House Obstacle Course
What is It? Take the idea of a bounce house up a notch with an obstacle course.
These bounce houses can be rented, but it might be a good idea to go ahead and purchase a bounce house obstacle course if you have the storage space.
It will pay for itself over time and you have the bonus of being the coolest parent on the block when kids find out you own your own bounce house.
Is it for Indoors or Outdoors? Outdoors
Items Needed
Cost: Approximately $500
4. Flag Football or Capture the Flag
What is It? Football is a sport that is beloved by many children. Unfortunately, it can be very dangerous.
Make it fun and safe by playing a down-graded version of flag football. Explain to the children that tackling is not allowed.
In fact, any kind of tackling will cause a player to be removed from the game. Instead, kids must grab flags from the player's belt. Another option is to play Capture the Flag. It is a similar idea as flag football with slightly different rules.
Is it for Indoors or Outdoors? Outdoors
Items Needed
Cost: About $30 per game
5. The Floor is Lava
What is It? We all know how this works. You're sitting still, minding your own business, when suddenly the floor turns into lava. Everyone has to get off the floor or risk burning their toes and tushies.
Kids will need to cross the room without hurting themselves on the lava by jumping across spaces on the floor that are miraculously immune to the heat from the molten lava. You can purchase a game or make your own.
Is it for Indoors or Outdoors? Indoors
Items Needed
Cost: $15 to purchase a pre-made game
6. Ice Cream / Shaved Ice Truck
What is It? Most ice cream or shaved ice trucks are rentable for parties. They will come to your home and provide one treat per child with payment made in advance. The kids love the special treat.
Is it for Indoors or Outdoors? Outdoors
Items Needed
Cost: The cost varies. You should plan for about $10 per child or about $250 per hour.
7. Build Your Own Pizza
What is It? Food is a part of every fun party. What food is more loved than pizza? Purchase pre-made, individual-sized pizza crusts.
Provide a range of toppings that include sauce, shredded cheeses, pre-cooked meats and various vegetables.
Let the kids make their own pizzas, and then stick them in the microwave one at a time for easy, inexpensive meals that the kids will love.
Is it for Indoors or Outdoors? Indoors
Items Needed
Individual Pizza Crusts
Various Toppings
Cost: Plan for $5 to $10 per child
8. DIY Drinks
What is It? Most parents cringe at the idea of children pouring their own drinks. It's bound to be messy with all of the inevitable spills.
I found a great workaround. When I planned a Harry Potter-themed birthday party for a five year old, I set up a "magic potions" table.
Cups were pre-filled about halfway with water, but the kids could add their own flavors and edible glitter to make the drink they wished.
Is it for Indoors or Outdoors? Either!
Items Needed
Cost: Price will vary depending on how many options you want to give the children. Plan for about $30 to $40 and plenty of leftovers.
9. Play Time at the Park
What is It? If weather permits, have your child's birthday at a public park. You can usually reserve a park table or shelter for providing food.
When kids are finished eating and playing the games you have planned, they can head to the playground area to happily entertain themselves until the party ends.
Is it for Indoors or Outdoors? Outdoors
Items Needed
None!
Cost: There is no cost for playing at a public park but you may be charged for reserving a shelter. This cost varies depending on your location.
10. Park Cleanup
What is It? Did you know that it is possible to turn a chore into a party activity? Not just that, but you can teach young people to care about their environment while also having fun.
Give every child a pair of gloves, a garbage bag and a trash claw. Ask them to clean up a park or any public green space. If you wish, provide them with a prize when they are finished.
My children have attended two parties with this activity. They had a great time and were thrilled to have helped clean the earth.
NOTE
Every child needs to be accompanied by an adult as some pieces of garbage they find may be very dangerous.
Is it for Indoors or Outdoors? Outdoors
Items Needed Outdoors
Cost: $16 per child
Key Takeaways
The key to a successful party for a five-year-old is using their endless energy to your advantage.
Keep them busy, keep them fed and you will keep them happy. Do you have any ideas that aren't listed here? Share them with us in the comments!
Have You Read These Yet?